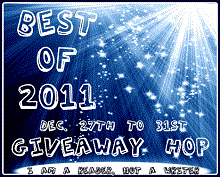 ♥HERE YEE, HERE YEE! Another giveaway hop!
Giveaway for my flava of books for 2011.!♥✫•°˜"*°•.✫
Rules: Easy peasy over here! If you are not already following, hop aboard! Post a 'Howdy! My name is' and tell me one of your favorite reads for 2011, and you're automatically entered to win! Good luck and have fun all you happy 'lil readers ~n~ hoppers♥♥♥
♥Four lucky winners will receive a copy of one of the two ebooks listed:
♥✫Twenty Weeks✫♥
"They said it was no big deal. The thing inside of me was just a blob of nothing, just some tissue." She paused and drew imaginary circles on her sheet with her index finger.

Sixteen-year-old Maya Rockwell thought she'd take care of it, quietly and efficiently. But everything exploded in one terrifying moment, and Maya can no longer pretend to be ignorant. Revelations of her friend's world of abuse, death, and disaster force Maya to brave the heat of negative publicity and take a stand. Her privacy shattered, she faces her family, friends and schoolmates, balanced on the crucial decision she must make for herself and her unborn child.
♥✫Rae of Hope✫♥
Product Description
How hard do you have to shake a family tree to find out the truth about the past?

Fifteen-year-old Rae Kerrigan never questioned her family's history. That is until she accepted a scholarship to Guilder Boarding School in England. Guilder is an exclusive, gifted school. Rae has no idea what she is getting herself into or that her family's past is going to come back and taunt her.
She learns she is part of an unparalleled group of individuals who become inked with a unique tattoo (tatu) on their sixteenth birthday. Both of her parents were inked, though Rae never knew, as they passed away when she was young. Learning about her family's past, her evil father and sacrificial mother, Rae needs to decide if there is a ray of hope in her own life.